The SaFTFlo® Docking Station provides a wall mounted unit with a built-in cap adapter. A container of chemical concentrate equipped with a SaFTFlo® bottle insert is placed into the unit where a built-in cap adapter is connected and directly linked to the dispenser. Multiple units can be wall mounted together. 
The system is designed for areas where multiple chemicals are required to keep the workspace organized, preventing costly mixing mistakes. Taking all chemicals off the floor provides a safer working environment which, combined with using a closed-loop system minimizes leaks, spills, and chemical exposure for the end user.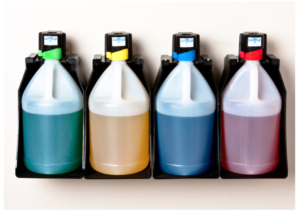 Fully closed loop system

 

 

Eliminates mixing mistakes

 

 

Provides a safer working environment

 

 

Protects end-users and the environment from spills

 

 

Limits end-user contact

 

 
Works with the standard 1 Liter round bottle – 38mm insert and cap adapter

Multiple units can be mounted together

Liquid

color matching available

Company color matching available
The SaFTFlo Docking Station can be mounted directly to the wall or placed on a shelf. Black cabinets are available to fit one-gallon round bottles.
To install the docking station:
Remove the shipping closure so that the bottle insert is visible.
Slide the bottle into the base of the black cabinet holder.
Turn the lever to the docking station into place.
The chemical concentrate or liquid is ready to be dispensed.
For superior performance results, use the SaFTFlo® Docking Station in conjunction with our full line of liquid containment and dispensing products from the SaFTFlo® Fluid Management Systems.
SaFTFlo® Docking Station Document Download