SaFTFlo® Dual Straw Insert
The Dual Straw Insert offers both a dual flow rate and dual dilution from a single insert. 
 The two separate flow channels enable the end–user to pull two separate dilutions from the same chemical bottle into either a wall dispenser or a PDU from a single insert. 
 This is great for environments where you require different dilutions of the same chemical for different uses e.g. filling a trigger bottle for a window cleaning solution and a mop bucket for cleaning floors. 
Fully closed–loop solution for both portable and wall–mounted chemical dilution.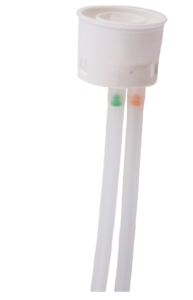 A dual flow rate from a single insert 

 

Dual dilution in a single insert 

 

Can pull the correct dilution for a small trigger bottle and a mop bucket from the same 

chemical

 bottle without change over 

 

Provides a closed-loop system

 
Available in 38mm standard flow rate 

 

 Enables end user to pull two different dilutions from the same bottle of chemical 

 

 Designed to work with the Dual Flow Portable Dispensing Unit and Dual Port Cap Adapter

32 dilution options

 

Optional 

SoftSeal

® 

overmold

 provides a more secure seal 

 

Keylock available 

 

Material Options: 

 

Plug: Polypropylene / HDPE / TPE 

overmold

 

 

Venting: PE Foam Liner 

 

Spring: Hastelloy, Stainless Steel, TPV 

 

 Please contact your sales executive for 

color

 options
For superior performance results, use the SaFTFlo® Dual Straw Insert in conjunction with our full line of liquid containment and dispensing products from the SaFTFlo® Fluid Management Systems.


SaFTFlo® Dual Straw Insert Document Download