Fluid Monitor by SaFTFlo® is a modular IP65 unit that can be used individually or interconnected to monitor over 30 different chemicals at a time.
Using patented optical technology, it offers around the clock monitoring and can detect disruptions from empty tubes, faulty container link-up/connectivity, and even errors in chemical type by identifying specific chemical color changes.  It is the only closed loop fluid monitor on the market.
Once a flow disruption is detected, a bright visual alarm immediately notifies operators, allowing them to apply corrective actions, restoring productive workflow quickly. The chemical container changeover is quick, and recalibration easy with a 1-touch patented calibration process. The visual alarm can even be installed in areas more conveniently observed by operators.
The widely used method of level-sensor drum probes and corresponding monitors are costly and promote chemical cross-contamination, which can occur during chemical container switch out. This system is messy and exposes operators to chemical concentrates which compromise the health and safety of employees. The Fluid Monitor eliminates these issues.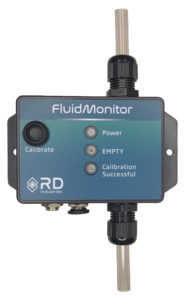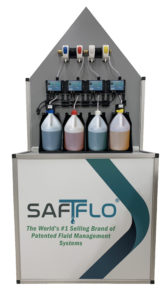 A fully closed-loop fluid monitor
Detects flow disruptions immediately
Detects and alarms for air gaps
Detects and alarms for incorrect chemical container installation
Detects and alarms for empty chemical containers
Total compatibility with all chemicals due to patented SafTflo technology
No mess
Cost savings over level sensor drum probes and monitors
Patented optical technology process
One-touch set-up for chemical calibration
Modular IP65 unit
Visual alarm with local or distant installation benefits
Up to 30 units can be interconnected together at any one time
For superior performance results, use the SaFTFlo® Fluid Monitor in conjunction with our full line of liquid containment and dispensing products from the SaFTFlo® Fluid Management Systems.
SaFTFlo® Fluid Monitor Document Download