SaFTFlo® Foaming Portable Dispenser
The Foaming Portable Dispensing Unit is singe flow, no airgap, 2GPM flow rate with a wide angle foamer attached to the outflow channel.  
 The foamer produces a fan pattern spray with a dense foam which provides concentrated coverage giving superior cleaning ability and time saving benefits.  
 The water and chemical output are released once the switch is activated and the hand trigger is deployed. For cleaning larger areas, areas hard to reach or those high up, the foamer can be attached to a to a 5m hose which can be connected directly to the PDU, creating a foaming wand.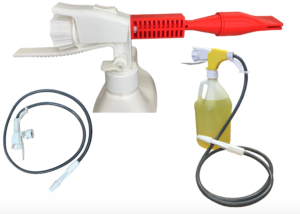 Fan pattern 

foamer

 for cleaning large areas

 

Dense foam gives superior cleaning results

 

Quick and efficient cleaning solution

 

Portable closed-loop dispenser

 

Fits any size container, from half-gallon bottles and 5-gallon pails to 50-gallon drums

 

Accurate dilution gives optimum product performance and saves money

 

No installation required

 

Quick and easy to set-up and use

 

Certified: In compliance with both the United States and Canada

 
2GPM Flow Unit

 

 No Air Gap

 

Single and dual metering dilution

 

 Shut off chemical for rinse

 

Fan pattern spray

 

Can be attached to 1/4" hose, creating a foaming wand

 
For superior performance results, use the SaFTFlo® Wide Angle Foamer in conjunction with our full line of liquid containment and dispensing products from the SaFTFlo® Fluid Management Systems.
SaFTFlo® Foamer PDU Accessory