The SaFTGreen™ Slide Valve Insert offers the latest in closed loop technology. A patented design and manufacturing process make this part of the world's first recyclable and sustainably manufactured range of bottle inserts for chemical containment and dispensing.
A TPE, soft-seal over-mold around the plug and on the shoulder of the insert offers a superior seal for both dispensing and transportation chemicals.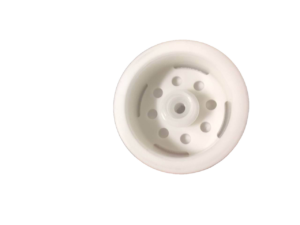 Compatible with both SaFTFlo® cap adapters and the SaFTGreen ™ PiercePin cap adapter, the Slide Valve bottle insert is the most versatile product within the SafTGreen™ range. The valve in the insert is fully sealed until a cap adapter is connected, pushing the snap stem valve to establish chemical dispensing. Once the cap adapter is removed, the valve will re-seal itself to ensure a full seal once again.
Best seal on the market

Compatible with both existing SaFTFlo® cap adapters and SaFTGreen™ PiercePin cap adapter

Large range of chemical compatibility

Premium venting to allow for better off gassing which prevents panelling and bloating of container

100% recyclable

Sustainably manufactured
Designed to fit most 38mm bottles

Flow Rates: standard and medium

GreenSpring™ technology

Patented TPE over-mold on all sealing surfaces

Automatic, bi-directional self-venting

Materials: HDPE sub straight with a TPE over-mold

Compatible with Tamper Evident: HDPE 0.18 lugs, 0.22 lugs, 0.250 lugs

Key Lock Options available.

Compatible with metering tips – 32 dilutions

Contact your Sales Representative for color options

No metal parts in assembly, i.e. no springs

Low manufacturing impact on the environment
For superior performance results, use the SaFTGreen™ SliceValve Insert in conjunction with our full line of liquid containment and dispensing products from the SaFTFlo® Fluid Management Systems.
*

Please note adding some of the options above, will reduce the ability to recycle the insert, including adding color.
SaFTGreen™ SlideValve Insert Document Download