The SaFTGreen™ MSV (mechanical slide valve) offers the traditional mechanical slide valve insert option without the use of metal.
With the launch of the patented GREENSPRING™, an elastomer replacement spring is used, giving the insert a much higher level of chemical compatibility and a longer shelf life. 
Works with the current SaFTFlo® Cap Adapters and the New SaFTGreen™ Pierce Pin Cap Adapter.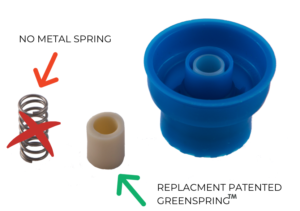 More versatile than competitors due to higher compatibility with chemicals.
Backwards compatible, i.e. can be used with current cap adapters
2-way venting
No metal parts in assembly
Lower manufacturing impact on the environment
Tamper Evident compatible
Key lock combinations
Metering tip options
Standard and medium flow rates
Venting: PE Foam Liner / PTFE Membrane
Sizes: 28mm, 38mm, 40mm, 53mm, 60mm, 63mm, 70mm, Bungs
Materials: Polypropylene, HDPE, TPV
For color options please contact your sales representative
For superior performance results, use the SaFTGreen™ MSV Insert in conjunction with our full line of liquid containment and dispensing products from the SaFTFlo® Fluid Management Systems.
*

Please note adding some of the options above, will reduce the ability to recycle the insert, including adding color.


SaFTGreen™ MSV Insert Document Download