SaFTGreen™ PiercePin Insert
The SafTGreen™ PiercePin Insert offers the latest in closed-loop technology. A patented design and manufacturing process makes this the world's first recyclable and sustainably manufactured bottle insert for chemical containment and dispensing.
A TPE softseal overmold around the plug and on the shoulder offers a superior seal for both dispensing and transportation.
The valve is fully sealed until the cap adapter is connected, pushing the HDPE lance down, piercing the valve to establish chemical dispensing. Once the lance is removed, the membrane will re-seal itself to ensure a full seal once again.
Bi-directional valves allow for better venting and off-gassing, reducing the ability for the container to panel or bloat.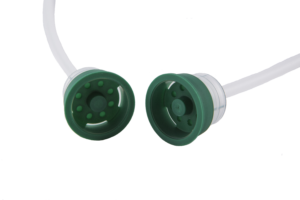 Best seal on the market

Large range of chemical compatibility

Premium venting to allow for better off-gassing and prevention of panelling and bloating

100% recyclable

Sustainably manufactured
Designed to fit most 38mm bottles

Flow Rates: standard and medium

Patented TPE over-mold on all sealing surfaces

Automatic, bi-directional self-venting

Materials: HDPE sub straight with a TPE over-mold

Compatible with Tamper Evident: HDPE 0.18 lugs, 0.22 lugs, 0.250 lugs

Key Lock Options available.

Compatible with metering tips – 32 dilutions

Contact your Sales Representative for color options

No metal parts in assembly, i.e. no springs

Low manufacturing impact on the environment
For superior performance results, use the SaFTGreen™ PiercePin Insert in conjunction with our full line of liquid containment and dispensing products from the SaFTFlo® Fluid Management Systems.
*

Please note adding some of the options above, will reduce the ability to recycle the insert, including adding color.
SaFTGreen™ PiercePin Insert Document Download