The SaFTGreen™ SPP offers the latest, advanced technology in a revolutionary, patented insert that is sustainably manufactured and 100% recyclable.
Used in conjunction with the SaFTGreen™ Pierce Pin Cap Adapter, this insert offers the highest level of sealable insert on the market. The patented TPE over-mold technology is found around the insert, and as a lip that sits on top of the bottle neck, under the ship cap. Bi-directional valves allow for better venting and off-gassing, reducing the ability for the container to panel or bloat.
The flow channel can only be opened when punctured with the lance of the Pierce Pin Cap Adapter.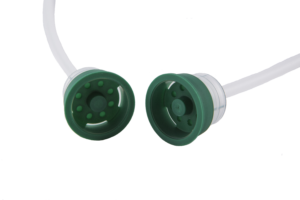 Highest level of sealable insert in the market
Large range of chemical compatibility
Flow Channel is punctured by the Pierce Pin Cap Adapter
Premium venting to allow for better off-gassing and prevention of panelling
Designed to fit most 38mm bottles
Patented TPE over-mold on all sealing surfaces
100% recyclable
Sustainable manufacturing
No metal parts in assembly, i.e. spring
Low manufacturing impact on the environment
Tamper Evident Compatible
Key lock combinations
Metering tip
Additional colors are charged as an extra option
Standard and medium flow rates available
Materials: HDPE | Polyethylene Base TPE over- mold
For color options please contact your sales representative
For superior performance results, use the SaFTGreen™ SPP Insert in conjunction with our full line of liquid containment and dispensing products from the SaFTFlo® Fluid Management Systems.
*

Please note adding some of the options above, will reduce the ability to recycle the insert, including adding color.
SaFTGreen™ SP Insert Document Download