SaFTFlo® Saftvent Bottle Insert
RD Industries are the leaders in innovative, high- quality dosing and dispensing solutions. Our new SaFTFlo® SaFTVent Bottle Insert uses SC5 Gore® technology to provide additional venting for dangerous chemicals, such as peracetic acid, hydrogen peroxide, and sodium hypochlorite (bleach).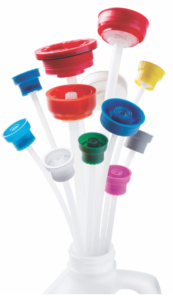 Supports optimal airflow for off-gassing chemicals
Prevents container from bloating or collapsing due to unequalised pressure
Offers excellent roll-off and wetting out
Increases chemical concentration
Provides safer chemical transportation
Maintains packaging integrity and brand reputation
Repels liquids with low surface tension (detergents, organics, and surfactants)
Provides a wide range of chemical compatibility
Integrates easily with our closed loop system
Available in the following standard flow sizes:: 38mm, 40mm, 53mm, 60mm, 63mm, 70mm
Tube length to fit any container
Wide range of plastics for chemical compatibility
Spring metal: Stainless Steel or Hastelloy
For extra protection, use with SaFTSeal technology
For color options please contact your sales representative
For superior performance results, use the SaFTFlo® Saftvent Bottle Insert in conjunction with our full line of liquid containment and dispensing products from the SaFTFlo® Fluid Management Systems.


SaFTFlo® Saftvent Insert Document Download