The SaFTFlo® Squeeze Dose System is an alternative to expensive wall-mounted dispensing systems. Chemical concentrates are more cost-effective to use than ready-to-use products, but they generally require a method for dilution control. With the SaFTFlo® Squeeze Dose System, dilution control doesn't get any easier. 
The SaFTFlo® Squeeze Dose System is designed to be used with other SaFTFlo® closed loop technology by attaching to any bottle fitted with the SaFTFlo® insert. The end-user simply squeezes the container to allow the chemical concentrate to flow into the cup to a predetermined level. 
Just flip open the lid on the dosing cup, and pour the concentrate into a mop bucket, spray bottle, or other cleaning container. It's clean, simple, safe, and cost effective.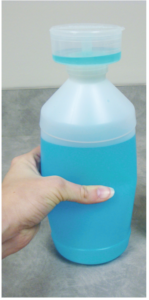 Cost-effective
Simple, safe, easy to use
Eliminates mixing mistakes
Dose amounts from 15 to 60 milliliters
Logo printing/branding available
For superior performance results, use the SaFTFlo® Squeeze Dose System in conjunction with our full line of liquid containment and dispensing products from the SaFTFlo® Fluid Management Systems.


SaFTFlo® Squeeze Dose Document Download