The SaFTFlo® Squeeze Dose System is a simple dilution control system offering an alternative when wall-mounted dispensing systems are not possible.
Designed to work with the SaFTFlo® closed-loop system, the Squeeze Dose works by attaching to any bottle fitted with the SaFTFlo® insert. Like the cap adapter, the squeeze dose system acts as a key and opens the valve of the bottle insert, allowing for chemical flow. Once attached to the chemical container, the end-user simply squeezes the container so the chemical concentrate flows into the cup at a pre-set dose.
Once the dose has been squeezed out of the bottle, simply flip open the lid of the dosing cup and pour concentrate into the mop bucket, spray bottle, or other cleaning container. Is does not need to be plumbed in or connected to a water supply.
A clean, simple, safe and very cost-effective dosing solution.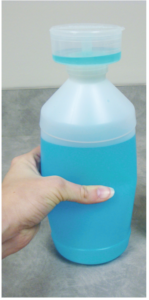 Cost-effective
Simple, safe, easy to use
Eliminates mixing mistakes
Dose amounts from 15 to 60 milliliters
Logo printing/branding available
For superior performance results, use the SaFTFlo® Squeeze Dose System in conjunction with our full line of liquid containment and dispensing products from the SaFTFlo® Fluid Management Systems.


SaFTFlo® Squeeze Dose Document Download