Chemical transportation is a fundamental component of the chemical supply chain, however, improper handling of the transportation of hazardous chemicals can result in dangerous situations. Often chemicals that are being transported can require special care because these materials could emit toxic fumes, catch on fire, or even cause an explosion; resulting in serious harm if not handled cautiously. A hazardous chemical, as defined by the Hazard Communication Standard (HCS), is any chemical that can cause a physical or a health hazard. This determination is made by the chemical manufacturer, as described in 29 CFR 1910. approximately one million hazardous materials are being transported daily in the United States, and every shipment must be compliant with the requirements of multiple organizations. There are numerous safety protocols to follow to prevent hazardous chemicals from leaking or spilling. It is important for personnel that are responsible for transporting hazardous chemicals to be educated properly on how to handle these types of products. If a company is found in violation of these regulations, it may face both criminal and civil penalties and fines. RD Industries is a company that is dedicated to making transporting chemicals safer and more reliable. 100% recyclable, RD Industries offers heavy-duty and heavy-walled ship cap options to ensure the safety of chemicals during transit. Continue reading to learn more about the benefits of using ship caps during transportation.
Benefit One: Prevention of Spills
When chemicals are being transported from a facility, personnel should be able to identify the potential hazards and have the appropriate equipment and PPE to move the containers securely. Of course, there will be preventative measures in place such as spill kits and drain covers to prepare for unexpected leaks and spills, but having appropriate containment vessels can save you from the potential risks. Containers without proper fitting ship caps increase the likelihood of the chemical leaking or spilling. Aside from having containers made of durable material that can withstand hazardous chemicals, ship caps are the first line of defense in preventing leaks and spills during transport. A container is considered closed when "all openings or lids are properly and securely affixed." Not all ship caps are created equal, so be sure to research what is on the market and what offers the most versatile and secure fit to the necessary bottles and containers. When RD Industries' SaFTGreen™ ship caps and bottle inserts are used together, they offer the most secure seal on the market when transporting chemicals, including concentrates.
Benefit Two: Safety of Transportation Personnel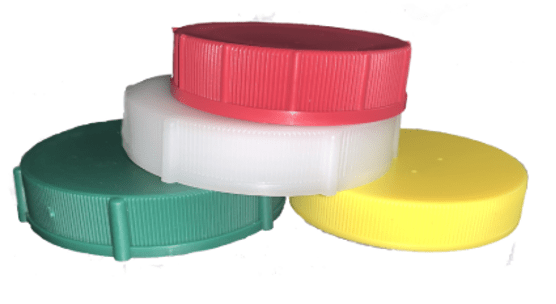 It is of utmost importance to ensure the safety of transportation personnel. It is the employer's responsibility to make sure a safe working environment is provided. Chemical exposure is just one of the numerous reasons for workers' compensation claims. Even if the personnel are properly trained on how to handle hazardous chemicals and how to mitigate risks, accidents can still occur. Containers without proper fitting caps can not only make the bottle or container more susceptible to a leak or spill but also cause harmful chemical emissions to become airborne-putting employees at risk for inhalation. Chemicals are often corrosive, explosive, toxic, and/or flammable. Depending on the type of hazardous chemical someone has been exposed to, it can cause burns or irritation, blindness, chest pains, respiratory damage, or even death. RD Industries offers a variety of components to help protect personnel from unnecessary harm due to chemical exposure. It is always better to be safe than sorry, check out the available products to better prevent spills with their unique bottle inserts, caps adapters, shipping caps, portable dispensing units, metering tips, and other custom solutions.
Are you looking for a plastic chemical containment manufacturer who can provide you with excellent products to save you money and enhance personnel safety?
Contact the experts at RD Industries to learn more about our innovative SaFTFlo® products today.
Benefit Three: Environmental Protection
When a chemical spill occurs and contaminates the environment, several questions need to be answered- quickly. It is important to report what hazardous chemical(s) was spilled if the spill is likely to spread to a water supply, how will the local environment and nearby communities be impacted, and what the most efficient way to clean up the spill is. This can be a huge incident for a company to be responsible for. Having secure and reliable ship caps can prevent taking on this risk when transporting hazardous chemicals. Not only is it important to ensure that hazardous materials are not being spilled and negatively impacting the environment, but it is also important to consider environmental responsibility regarding using eco-friendly plastics. If a company is regularly handing hazardous chemicals, the number of plastic products used and discarded is most certainly contributing to a negative environmental impact. Rest assured by choosing a truly sustainable option. RD Industries' ship caps are made of polypropylene, co-polymer, and HDPE- and are 100% recyclable.
Benefit Four: Flammability Protection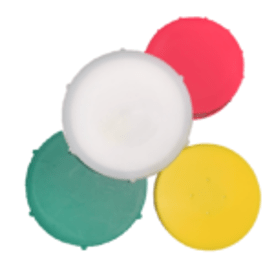 Hazardous chemicals can be flammable and have the potential to cause a lot of damage. It is important when handling such materials, that proper safety protocols are followed for the protection of personnel and surroundings. When transporting flammable liquids, anything can happen. A gas leak, a spill, or a liquid leak are all real possibilities; and the chances increase significantly when the hazardous materials are being transported by a vehicle. This is why RD Industries offers ship caps that are heavy-duty and heavy-walled for maximum protection. The ship caps are offered in a variety of different sizes from 28mm to 70mm to provide a safe and secure fit. RD Industries' ship caps are also customizable with additional safety features like being vented, opting for a Foam liner, and optional lugs (for 63+mm sizes)
Benefit Five: Protection in the Event of an Accident
The truth is, that accidents can happen no matter the precautions that are taken to try to avoid them. The most crucial part is the precautions that are taken to prevent such accidents, especially when you are in the business of regularly handling hazardous chemicals. Of course, it is necessary to follow all of the regulations and safety protocols that are outlined by the numerous organizations working hard to keep people, facilities, and the environment safe; but it never hurts to research more responsible alternatives. RD Industries' primary goal is to protect personnel and facilities, while also focusing on the safety and sustainability of the environment. Our innovative line offers many options for containment, dispensing, and dosing that utilizes oneflo and closed-loop technology, making it capable for end-users to never encounter the chemicals even when handling them directly. For maximum risk reduction, the ship Caps can be used in conjunction with our full line of liquid containment and dispensing products from the SaFTFlo® Fluid Management Systems.
RD Industries wants to be your partner in advanced chemical and containment systems. Contact RD Industries at 1-402-455-8553 to learn more about how we can provide you with the best chemical containment systems.
At RD Industries, we make Connections for a Safer Planet. Since 1968, we have been at the forefront of innovation in the fluid containment and dispensing industry. Our CEO and Founder, Rod Laible, has more than 60 patents to his name for product design and process. Rod's motto spans multiple industries, with varying degrees of application: to keep the world safe. This motto is apparent in the products he has designed and launched through RD Industries.
At RD Industries, we have been the proven leader in the design, manufacture, and distribution of containment and dispensing systems for decades. We are proud to serve customers throughout North America, Central America, South America, Europe, and the Asia Pacific. Our key market is chemical packaging which is utilized for chemical dispensing of cleaning solutions. We are based in Omaha, Nebraska. Our world-class team of product designers, engineers, and professionals expertly brings our products to realization and we remain ahead of the game as innovators. We look forward to working with your team soon.