SaFTFlo® Cap Adapters - The Key
What Is it?
The SaFTFlo® cap adapter is a critical component to the Closed Loop System, as it serves as the key to 'unlock' the chemical from the container when it is attached to a SaFTFlo® insert. The SaFTFlo® cap adapter is available in an extensive range of sizes, two flow rates, and numerous material options to accommodate a variety of chemical offerings. 
How it works…
The end-user removes the shipping closure and places the cap adapter onto the container that is fitted with the insert. When the cap adapter or 'key' is connected, it opens the spring-loaded valve to 'unlock' the chemical from the container. By adding an intake tube, the chemical will flow out of the container for safe dispensing. At the time the cap adapter is removed from the container, the valve closes automatically to lock the chemical in the container, to help prevent leaks or spills.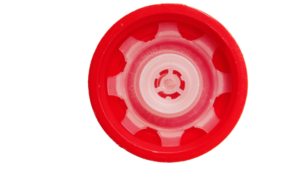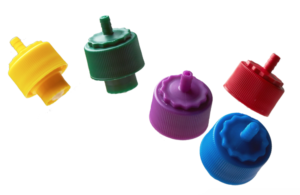 Standard and medium flow rates
Top Housing Options: Straight barb, smooth push lock, 90-degree barb, dual port barb
Sizes: 28 mm, 38 mm, 40 mm, 53 mm, 60 mm, 63 mm, 70 mm
Materials: Polypropylene, Kynar, EPDM, Metallocene, Viton
For color options please contact your sales representative
For superior performance results, use the SaFTFlo® Cap Adapters in conjunction with our full line of liquid containment and dispensing products from the SaFTFlo® Fluid Management Systems.
SaFTFlo® Cap Adapters – The Key Document Download