SaFTFlo® Cap Adapters - The Key
The SaFTFlo® Cap Adapter is a critical component to the closed-loop system, as it serves as the key to 'unlock' the chemical from the container when needed for dispensing.
To dispense chemical, the end-user removes the ship cap and attaches the cap adapter onto the neck of the container fitted with a bottle insert.
When the cap adapter or 'key' is connected, an umbrella valve opens the spring-loaded valve in the insert to 'unlock' the chemical from the container, taking it directly into the dispenser preventing contact with any handlers.
When the cap adapter is removed from the container, the valve closes automatically to lock the chemical in the container, to help prevent leaks or spills.
The SaFTFlo® cap adapter is available in an extensive range of sizes, two flow rates, and numerous material options to accommodate a wide range of chemicals.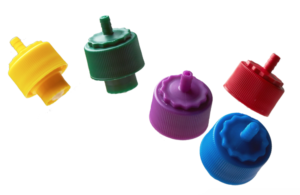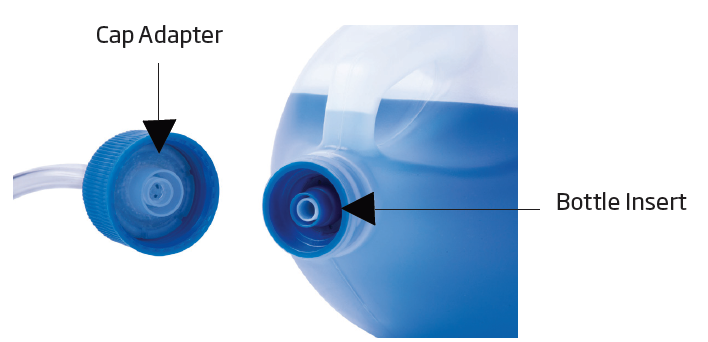 Allows chemical flow within a closed-loop system 

 

 Allows for safe dispensing of harmful chemicals

 

 Works with both portable and static dispensers 

 

Compatibility with a large range of chemicals 

 

SaFTFlo

® has the largest range of Cap Adapters on the market

 
Flow rates: Standard and medium

Top housing customization options: straight barb, smooth push lock, 90º barb, 90º dual port barb

Sizes: 28 mm, 38 mm, 40 mm, 53 mm, 60 mm, 63 mm, 70 mm, Bungs

Materials: Polypropylene, Kynar, EPDM, Metallocene, Viton

Key locks available

For

color

options please contact your sales representative
90º Fixed Barb
For tight fitting environments
90º Swivel Barb
For tight fitting environments with additional flexibility
Dual Port
For dual dilution and dispensing
NPT Adapter
To allow for connection directly from the mains water source or more industrial environments.
For the USA market only. (NPT = National Pipe Thread)
For superior performance results, use the SaFTFlo® Cap Adapters in conjunction with our full line of liquid containment and dispensing products from the SaFTFlo® Fluid Management Systems.
SaFTFlo® Cap Adapters – The Key Document Download