SaFTFlo® Tamper Evident Insert
SaFTFlo® Tamper Evident is a secondary safety check for our closed-loop system. An HDPE collar with lugs snaps to the bottom of the insert substrate to provide a secure connection, preventing unintended removal of the bottle insert.  
When an insert with the Tamper Evident collar is inserted into the bottle, the lugs expand open under the bottle neck, making it virtually impossible to remove the insert from the container. It can withstand a pulling force of 70lbs, 50% stronger than any competition in the market.  
To establish chemical flow, the end user replaces the ship cap with a SaFTFlo® Cap Adapter which opens the insert valve, releasing chemical. A fully closed-loop system ensures that end users are never exposed directly to chemical concentrate.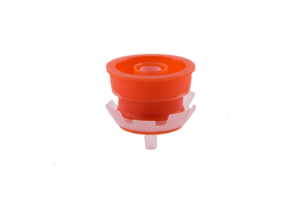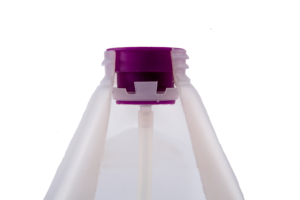 An extra safety check for closed-loop systems 

 

Secure connection to lock the chemicals inside the container to minimize chemical waste 

 

Provides visible evidence if anyone has tampered with the closed-loop connection

 
Compatible with both 

SaFTFlo

® and 

SaFTGreen

™ standard flow bottle inserts 

 

Compatible with 38mm and 40mm bottle inserts 

 

Can withstand a pulling pressure of up to 70lbs 

 

Three length variations of Locking lugs to accommodate different container sizes : 0.18", 0.22", 0.25" / 0.457cm, 0.558mm, 0.635mm 

 

Material: HDPE 

 

Can be recycled when used in conjunction with the 

SaFTGreen

™ bottle

 
For superior performance results, use the SaFTFlo® Tamper Evident Insert in conjunction with our full line of liquid containment and dispensing products from the SaFTFlo® Fluid Management Systems.
SaFTFlo® Tamper Evident Document Download