SaFTFlo® Tamper Evident Insert
RD Industries is revolutionizing liquid containment and dispensing with the SaFTFlo® Tamper Evident Bottle Insert. The lugs around the Tamper Evident Bottle Insert's collar work to provide a secure connection that prevents unintended removal of the bottle insert.  
Retention tests have revealed a significant amount of force, (up to 70 pounds), is required to remove the Tamper Evident Insert from the container.  The Tamper Evident locking lugs provide an additional point of security to the container, making it obvious though visual evidence if someone has interfered with the closed loop connection.  
The SaFTFlo® Tamper Evident Bottle Insert is one of the latest ways RD Industries is transforming how organizations maintain and retain their closed loop systems. Our liquid containment and dispensing solutions are engineered to offer the greatest protection for containing leaks, spills, drips, and workplace contamination.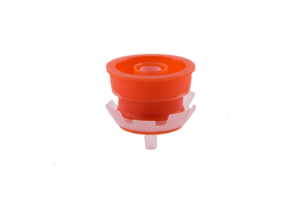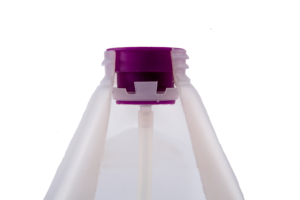 Can withstand a pressure of up to 70lbs
Locking lugs create a secondary safety check
Secure connection to lock the chemicals inside the container to minimize chemical waste
Improved chemical handling
Keep your most valuable asset safe – your employees
Standard flow rate
Venting: PE Foam Liner / Membrane Options
Materials: Polypropylene / Stainless Steel / Hastelloy / Metallocene Overmold / HDPE      
Sizes: 38mm and 40mm
For color options please contact your sales representative
For superior performance results, use the SaFTFlo® Tamper Evident Insert in conjunction with our full line of liquid containment and dispensing products from the SaFTFlo® Fluid Management Systems.
SaFTFlo® Tamper Evident Document Download