The SaFTFlo® Wall Dispenser offers a flexible, one or two module unit with a choice of flow rates and dilution options. A fully closed-loop dispensing system.
The one module unit works in line with a single straw insert and will pull only one dilution from the bottle. The two-module unit works in line with the dual straw insert and dual port cap adapter which allows for two different dilutions to be pulled from the same chemical bottle.
Cost effective, the wall dispenser is quick and easy to install and use, giving accurate dilutions each and every time.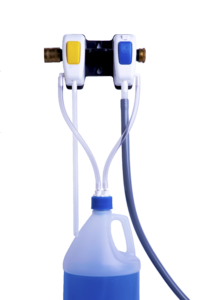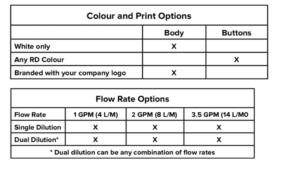 One-touch operation 

 

Accurate dilution control 

 

Air Gap 

 

Custom configuration and colour coding – design your own system 

 

Part of our closed-loop system 

 

Certified in compliance in the United States and Canada: 

 

Uniform Plumbing Code (UPC), ASSE 1055-2009

 

National Plumbing Code of Canada, TIL-MSE 57-2009

 
1GPM, 2 GPM and 3.5GPM flow rates 

 

1 or 2 module units for single and dual dilutions 

 

Quick and easy installation 

 

Included in Kit: 

 

Metering Tips / Hose Hanger / Chemical Tube / Discharge Tube / Swivel Connector / End Cap

 

Additional Items to add: 

 

Single Bottle Holder / Dual Bottle Holder / Brass Quick Connect / Water Hose 

 

For 

color

 options please contact your sales representative 

 

Instruction sheet available in English, Spanish, Portuguese, French, and German with more to come.

 
For superior performance results, use the SafTFlo® Wall Dispenser in conjunction with our full line of liquid containment and dispensing products from the SaFTFlo® Fluid Management Systems.
SaFTFlo® Wall Dispenser Document Download