SaFTFlo® Wall Mount Dispenser
RD Industries are the leaders in innovative, high-quality dosing and dispensing solutions. Our SaFTFlo® Wall Mount Dispenser provides the flexibility of a one- or two-port module and a choice of flow rates.
It offers easy dilution with interchangeable metering in the chemical draw barb for use with unlimited applications.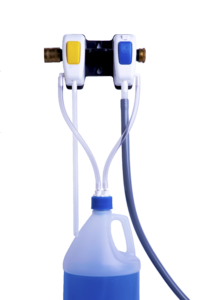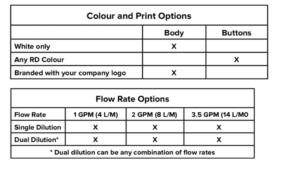 Quick, easy installation
One-touch operation
Accurate dilution control
Equipped with air gap eductors
Custom configuration and colour coding – design your own system
Easy integration with our closed loop system
Certified in compliance in the United States and Canada:
Uniform Plumbing Code (UPC), ASSE 1055-2009
National Plumbing Code of Canada, TIL-MSE 57-2009
Instruction sheet available in English, Spanish, Portuguese, French, and German with more to come.
Included in Kit:
Metering Tips / Hose Hanger / Chemical Tube / Discharge Tube / Swivel Connector / End Cap
Additional Items:
Single Bottle Holder / Dual Bottle Holder / Brass Quick / Connect / Water Hose
For color options please contact your sales representative
For superior performance results, use the SafTFlo® Wall Dispenser in conjunction with our full line of liquid containment and dispensing products from the SaFTFlo® Fluid Management Systems.
SaFTFlo® Wall Dispenser Document Download