Simple, Effective and Low Cost Dispensing Solutions
Industry leader in innovative and high-quality dispensing and dosing systems, the SaFTFlo® Fluid Management System offers both portable and wall-mounted solutions. 
Accurate dilution saves companies hundreds of thousands of dollars a year, whilst ensuring maximum product performance which in turn provides customer satisfaction and confidence time and time again. SaFTFlo® metering tips are precision moulded from Kynar and 100% optically quality checked.This ensures that SaFTFlo® has a world recognised consistency when it comes to dilution and dispensing.
Leveraging our closed-loop technology,  SaFTFlo® Fluid Management dispensers provide additional benefits by increasing the health and safety for end-users.
RD Industries products are innovated and manufactured in USA.
Portable Dispensing Units​
Catering to the growing demand of portable dispensers, we offer both single and dual dilutions and flows within a single unit. There are a large number of combinations available to the customer ensuring we are able to cater to your requirements.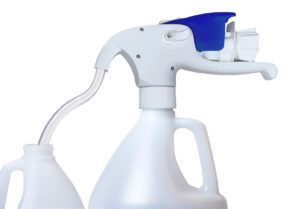 Quick and easy installation, one touch operation, along with a choice of flow rates and dilution options. The SaFTFlo® wall dispensers offer easy dilution solutions for unlimited applications.