SaFTFlo® Bottle Inserts - The Lock
The SaFTFlo® insert is at the heart of closed-loop technology. A molded plug with an automatic, self-venting valve sits in the neck of a container to 'lock' the chemical inside, preventing leaks and spills during transport, storage, and handling.
The insert is the single point of contact to release the chemical while dispensing. A dip tube is attached to the insert that runs the length of the bottle which is used to draw chemical from the container through the insert.
The SaFTFlo® insert has built-in venting to activate chemical flow and allow chemicals to 'off gas' during transportation and storage which will prevent the containers paneling or bloating.
To set up chemical flow, the end–user replaces the ship cap with a SaFTFlo® Cap Adapter which opens the insert valve, releasing the chemical. A fully closed-loop system ensures that end–users are never exposed directly to chemical concentrates.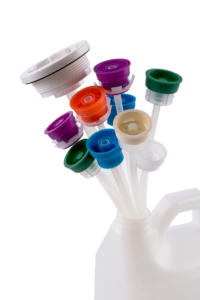 Prevents 

leaks and spills of 

chemical

 

concentrates

 during shipping, storage

,

 

and handling by 

securing them within a container

 

Creates a closed-loop system which:

 

Prevents end

–

users from chemical burns and inhalation of toxic fumes

 

Enables accurate dilution which optimi

z

es product performance

 

Accurate dilutions = cost savings

 

Provides safety to your employees

 

Built

–

in, automatic venting ensures containers do not panel or bloat

 

Compatible with a large range of chemicals

 

Fully customizable to suit customer needs

 

Largest range of sizes on the market including bungs

 
Sizes: 28 mm, 38 mm, 40 mm, 53 mm, 60 mm, 63 mm, 70 mm, Bungs

 

Flow rates: Standard and medium 

 

Material Options:

 

Substrate: Polypropylene, Metallocene over-

mold

 

Venting: PE Foam Liner, SC5 Gore

 

Spring: Stainless Steel, Kynar, Hastelloy, TPE

 

Colors

: please contact your sales representative

 

Key locks

 
Tamper Evident Collar for additional safety/theft prevention

 

SaFTSeal

 Metallocene over-

mold

 to accommodate bottle neck irregularities

 

Venting Options: PE Foam Liner, SC5 Gore

 

Key locks

– to ensure that only your customized cap adapter will open the valve in the insert.

 
For superior performance results, use the SaFTFlo® Insert in conjunction with our full line of liquid containment and dispensing products from the SaFTFlo® Fluid Management Systems.
SaFTFlo® Inserts Document Download