SaFTFlo® Bottle Inserts - The Lock
What it is… 
The insert locks the chemical inside the container and provides a single point of contact to release the chemical. SaFTFlo® offers an extensive range of insert sizes, two flow rates, and a wide selection of venting options. The SaFTFlo® insert attaches to a dip tube that draws the chemical from the container.
How it works…
The SaFTFlo® insert is a part of the Closed Loop System that provides ventilation for proper flow and containment of the chemical designed to achieve safe working environments. The self-venting insert alleviates positive or negative pressure issues in the container to help prevent leaks or spills.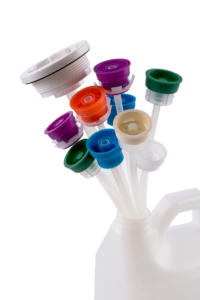 Standard and medium flow rates
Venting: PE Foam Liner, SC5 Gore
Sizes: 28 mm, 38 mm, 40 mm, 53 mm, 60 mm, 63 mm, 70 mm, Bungs
Materials: Polypropylene, Stainless Steel, Kynar, Hastelloy, Metallocene over-mold.
For color options please contact your sales representative
For superior performance results, use the SaFTFlo® Insert in conjunction with our full line of liquid containment and dispensing products from the SaFTFlo® Fluid Management Systems.
SaFTFlo® Inserts Document Download