SaFTFlo® Dual Port Cap Adapter
The SaFTFlo® Dual-Port Cap Adapter is designed for dispensing one product to two different dispensers from a single container of chemical.
This is an excellent solution for large chemical dispensing or when looking to reduce the number of bottles or mixing stations in a work area.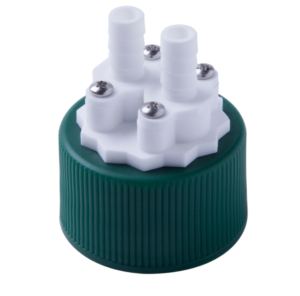 Accurate dilutions – the dual-port cap adapter is designed to only draw from one port at a time; thus reducing the chances of improper dilutions
Dry break valve
Dual-ports allow for multiple flow and dilution rate combinations, depending on your customer's needs
Dual-ports allow for dispensing from one chemical bottle to two different machines/ dispensers; thereby conserving space in tight quarters
Standard and medium flow rates
Proprietary key lock
Sizes: 38mm, 40mm, 53mm, 60mm, 63mm
Materials: Wide range of plastic for chemical compatibility
For color options please contact your sales representative
For superior performance results, use the SaFTFlo® Dual Port Cap Adapter in conjunction with our full line of liquid containment and dispensing products from the SaFTFlo® Fluid Management Systems.


SaFTFlo® Dual Port Cap Adapter Document Download