SaFTFlo® Dual Port Cap Adapter
The SaFTFlo® Dual-Port Cap Adapter is designed for dispensing one chemical into two different types of dispensers requiring different dilution e.g. one dilution into a trigger bottle for window applications and another into a mop bucket for floor applications.   
This is an excellent solution for those using large containers to dispense chemical from and those wanting to reduce the number of bottles or mixing stations in a work area. It is also a great time saver not having to change over containers for different applications.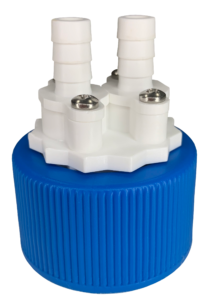 Dual-ports

 allow for dispensing from one chemical bottle into two different machines/ 

dispensers:

 thereby conserving space in tight quarters

 

 

Dual-ports

 allow for multiple flow and dilution rate combinations, depending on your customer's needs 

 

 

Accurate dilutions – the dual-port cap adapter is designed to only draw from one port at a 

time:

 

thus,

 reducing the chances of improper dilutions 

 

 

Increased product performance due to accurate dilution 

 

 

Dry break valve reduces waste and ensures clean changeover of chemical

 

 
Standard and medium flow rates

Sizes: 38mm, 40mm, 53mm, 60mm, 63mm

Proprietary key lock available

For

color

options please contact your sales representative
For superior performance results, use the SaFTFlo® Dual Port Cap Adapter in conjunction with our full line of liquid containment and dispensing products from the SaFTFlo® Fluid Management Systems.


SaFTFlo® Dual Port Cap Adapter Document Download