SaFTFlo® Dual Flow Portable Dispensing Unit
The SaFTFlo® Portable Dispensing Unit is a versatile and convenient dispensing system, offering an economical addition to your chemical dilution system anywhere water is available. 
Offering dual flow channel and dual dilution, the SaFTFlo® PDU – Dual Flow will offer the most accurate dilution in the PDU market, 40% more accurate than the current competition.
The metering tip is placed in the insert as opposed to the head of the unit. A concentric head attachment makes it easy to transfer between multiple chemical bottles.
A single lever activates the change between the flow channels, enabling the consumer to be able to pull different dilutions from the same chemical to accommodate different uses.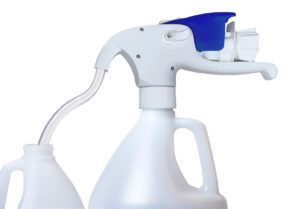 Accurate dilutions – the dual-port cap adapter offers a

 

dual flow channel

Dual dilution is established with a dual straw insert

The dilution is carried out in the insert as opposed to in the PDU head so it can be easily interchanged with different chemicals

A single lever changes between single and dual flow and dilution

Built in back preventer ASSE 1055-2009

Air Gap

Shroud cover

Built in bucket clip
Standard and medium flow rates

Dual flow rate system including 1 gpm and 3.5 gpm

Materials: Polypropalyne, Kynar, Stainless Steel, Hastelloy

Water Hose- Available in NPT only

Additions: Quick connects, available in NPT and BSPP thread
For superior performance results, use the SaFTFlo® PDU Dual Flow in conjunction with our full line of liquid containment and dispensing products from the SaFTFlo® Fluid Management Systems.


SaFTFlo® Dual Flow PDU Document Download