SaFTFlo® Gravitflo Dosing System
The SaFTFlo®  Gravitflo Insert is a unique dispensing system featuring our closed loop technology in an inverted application. Gravitiflo is the only solution of its kind and is ideal for areas without a water source or where water pressure is a concern. 
Once the chemical bottle is placed on the dispenser, the insert valve opens to release chemicals into the reservoir of the dispenser. When the end-user is ready to dispense the concentrate for dilution, they simply press up on the dosing mechanism, and a metered amount of chemical concentrate empties into the receiving bottle, mop bucket, or other type of container.
SAFETY – No chemical contact dispensing giving increased safety to operators. Uses closed loop technology.
EASY INSTALL

– No water source needed to install or operate system

LOW COST

–

Low equipment costs and no maintenance costs or service calls

SIMPLE – Simple system that is easy to use and quick to educate others on
ACCURATE DOSING

–

Guaranteed accuracy for each and every dose

ACCURATE DILUTION

–

Accurate dilution ensures maximum product performance and cost effective use.

SUSTAINABLE – Closed loop system ensures enhanced saftey when transporting concentrated chemical preventing further leaks and spills
ADAPTABLE

–

Can be used for filling chemical bottles, mop buckets and compatible to an open feed system

VERSATILE – will fit any bottle size and be can installed into the smallest of places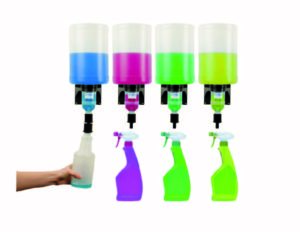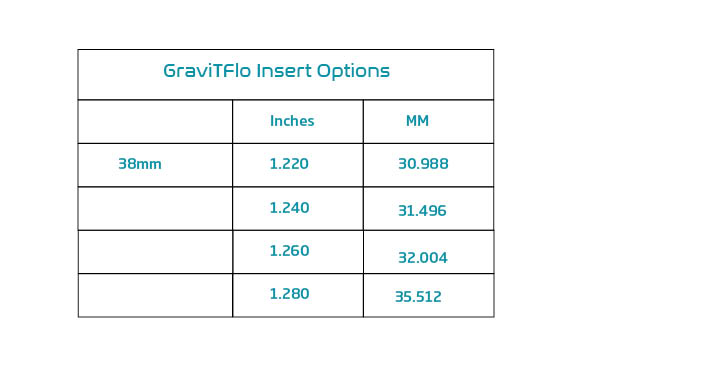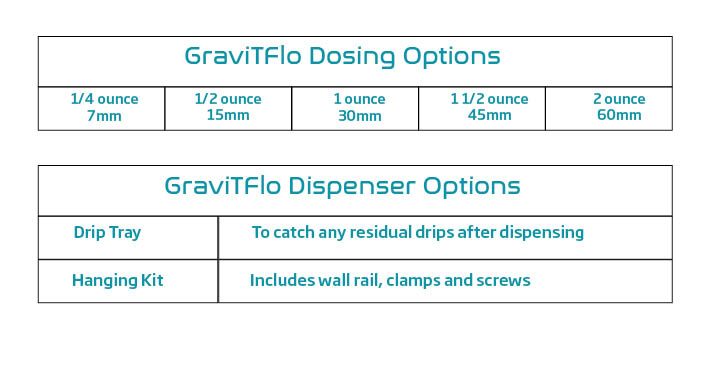 Sizes: 38mm
Dosing sizes: 7mm, 15mm, 30mm, 45mm, 60mm
Drip tray (To catch any dripping during dispensing)
Hanging kit (Includes wall rail, clamps, and screws)

For color and dosing cusomization, please contact your sales representative
For superior performance results, use the  GraviTFlo range of products in conjunction with our full line of liquid containment and dispensing products from the SaFTFlo® Fluid Management Systems.
SaFTFlo®  GraviTFlo Document Download