The SaFTFlo® Hand Pump Dispenser offers easy, portable dispensing and safe chemical containment. Integrating the closed-loop system into a fully portable dispenser, the hand pump uses the "lock and key" concept.  
 Chemical concentrates are "locked" within the container using a SaFTFlo® bottle insert. The hand pump acts as the key with a cap adapter fitment attached to the base.  When the hand pump is connected to the container, the safety valve in the insert is opened, and the chemical will be released when the hand pump is pushed down. 
 Once the hand pump is removed from the container, the valve in the bottle insert will close, securing the chemical inside. The system is spill-resistant and holds prime after initial use. 
Since no water supply is needed, the hand pump is ideal for use on countertops, mobile carts, and low-chemical use areas.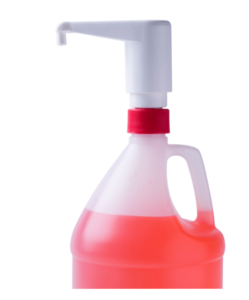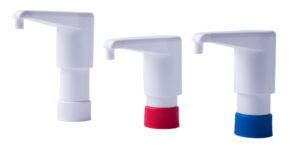 No water supply needed

 

Part of a fully closed loop system

 

Fully portable chemical dispenser

 

Preset

 dilutions

 

Precise dispensing

 

Durable, ergonomic design

 

Color

 coding available – design your own system

 
Dose amounts: ¼, ½, and 1 ounce

 

Fits 38mm containers

 

Logo printing/branding available

 
For superior performance results, use the SaFTFlo® Hand Pump Dispenser in conjunction with our full line of liquid containment and dispensing products from the SaFTFlo® Fluid Management Systems.


SaFTFlo® Hand Pump Document Download