SaFTFlo® Single Flow Portable Dispensing Unit
Turn Any Container into a Portable Dispenser. The SaFTlo® Portable Dispensing Unit (PDU) is a versatile and convenient dispensing system that is an economical addition to your chemical dilution system anywhere water is available.  
With no installation required, the set-up and operation of the PDU is quick and easy. When the PDU is connected to both a water source and the chemical concentrate, once the trigger is squeezed, an accurate dose of chemical concentrate and water are released enabling the end user to either fill up mop buckets, trigger bottles, etc., or with the addition of the foamer, it can be used directly for spray wash purposes.  
 The SaFTFlo® PDU offers a fully portable closed-loop system. A SaFTFlo® insert insert is installed into the chemical container and the PDU is connected to the bottle using the built-in cap adapter attachment. Therefore, the chemical concentrate is sealed inside of the bottle until the PDU is attached and utilized.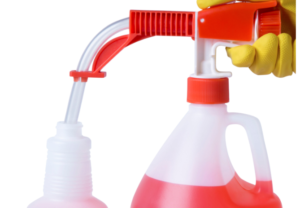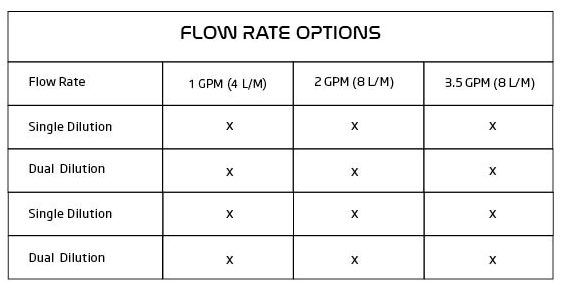 Portable closed-loop dispenser 

 

Fits any size container, from half-gallon bottles and 5-gallon pails to 50-gallon drums 

Accurate dilution gives optimum product performance and saves money 

 

No installation required 

 

Quick and easy to set-up and use 

 

Low cost compared to wall mount solutions 

 

Certified: In compliance with both the United States and Canada

 
Standard and medium flow rates 

 

Single or dual dilution 

 

Turn water on and off at the unit 

 

Backflow Preventers – both NPT and BSPP Thread

 

 Air Gap 

 

Materials: Polypropylene, Kynar, Stainless Steel, Hastelloy 

 

 Bucket Clip- For bucket/bottle filling 

 

Quick Connects – NPT and BSPP Thread ◊ Water Hose – Available in NPT only
For superior performance results, use the SaFTFlo® Portable Dispensing Units in conjunction with our full line of liquid containment and dispensing products from the SaFTFlo® Fluid Management Systems.
SaFTFlo® PDU – Document Download