SaFTFlo® Single Flow Portable Dispensing Unit
Turn Any Container Into a Portable Dispenser!
RD Industries is the leader in innovative, high-quality dosing and dispensing solutions.
The SaFTlo® Portable Dispensing Unit (PDU) is a versatile and convenient dispensing system that is an economical addition to your chemical dilution system anywhere water is available.
The PDU is connected to both a water source and a container of concentrated chemical installed with an  insert, creating the closed loop system.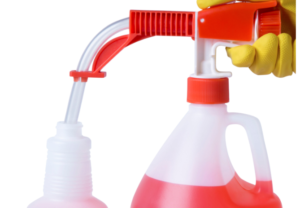 Accurate dilution control is built into the PDU

Fits any size container, from half-gallon bottles and 5-gallon pails to 50-gallon drums

State-of-the-art materials withstand harsh chemicals

Turn water on and off at the unit

Ergonomically designed for safety and productivity with one-handed operation

low cost compared to wall-mounted dispensers

Installation is instant – no mounting required

Specially designed squeeze trigger helps eliminate hand fatigue

Creates a closed loop system

Certified: In compliance with both the United States and Canada
Standard and medium flow rates

Single or dual dilution

Backflow Preventers- NPT and BSPP Thread

Air Gap

Materials: Polypropylene, Kynar, Stainless Steel, Hastelloy

Bucket Clip- For bucket/bottle filling

Foamer- For spray / foam application only for 2 GPM non-air gap

Foamer w/ 5 foot Wand Attachment for spray /or foam application only for 2 GPM non-air gap

Quick Connects – NPT and BSPP Thread

Water Hose- Available in NPT only

Shroud- For extra protection; available for single-dilution units only

Logo printing/branding available

For color options please contact your sales representative
For superior performance results, use the SaFTFlo® Portable Dispensing Units in conjunction with our full line of liquid containment and dispensing products from the SaFTFlo® Fluid Management Systems.
SaFTFlo® PDU – Single Flow Document Download