SaFTFlo® Swivel Cap Adapters
The SaFTFlo® 90 Degree Swivel Cap Adapter is the solution for eliminating kinks and tangles in chemical tubes.
It is a great solution in areas using a large number of chemicals.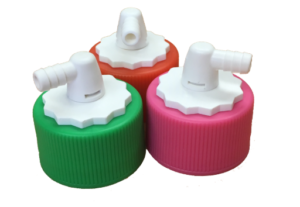 Accurate dilutions
Dry break valve
Angled barb allows it to fit in tight spaces
Rotating barb keeps chemical tubes from kinking or tangling, preventing chemicals from not being drawn up
Standard and medium flow rates
Proprietary key lock
Sizes: 38mm, 40mm, 44mm, 53mm, 60mm, 63mm
Materials: Wide range of plastic for chemical compatibility
For color options please contact your sales representative
For superior performance results, use the SaFTFlo® 90 Degree Cap Adapter in conjunction with our full line of liquid containment and dispensing products from the SaFTFlo® Fluid Management Systems.
SaFTFlo® Swivel Cap Adapter Document Document