SaFTFlo® 90º Barb Cap Adapters
The SaFTFlo® 90º Barb Cap Adapters come in both fixed and swivel options. Designed as a dispensing solution for tight spaces, they also work to prevent kinks and tangles of the dispensing chemical tubes. They are especially useful when many chemicals are required for use at the same time. 
The fixed 90º barb is more suited to 

those environments

 where height restrictions

 are

 in place.

 

The Swivel 90º barb is used to prevent kinks and tangles in the chemical lines which interfere with chemical draw.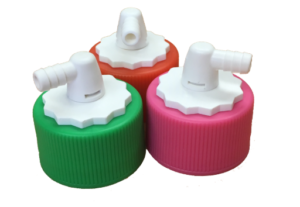 An a

ngled barb allows 

installation into

 tight spaces

 especially if there are height restrictions

 

A r

otating barb keeps chemical 

lines

 from kinking or tangling, preventing chemicals from not being drawn up

 

Accurate dilutions

 

giving maximum product performance and cost savings

 

Dry break valve

 prevents waste and offers increased safety during change out

 

Offers a fully closed-loop system

 

Compatible with 

SaFTFlo

 ® inserts

 
Flow rates: standard and medium

 

Proprietary key lock

 options available

 

Sizes: 38mm, 40mm, 44mm, 53mm, 60mm, 63mm, & 70mm

 

Materials: 

Wide range of plastic for chemical compatibility

 

For 

color

 options please contact your sales representative

 
For superior performance results, use the SaFTFlo® 90 Degree Cap Adapter in conjunction with our full line of liquid containment and dispensing products from the SaFTFlo® Fluid Management Systems.
SaFTFlo®

90° Barb Cap Adapters

Document