Each year, there are thousands of oil or chemical spills in coastal waters around the nation. These spills range from small ship collisions to fuel transfer mishaps to massive spill events like the BP Deepwater Horizon oil spill. Although these are examples of hazardous spills on a large scale, it is also equally important to try to also prevent chemical spills on a small scale. Even with reliable chemical storage, safe handling, and strict chemical spill protocols in place, accidents still happen. Having the proper components for safe containment is important to protect your employees and eliminate other damage that may occur due to a chemical spillb. If the workplace or other institutions neglect their responsibility to properly handle chemical spill containment, the spill is likely to spread, and increase the potential danger that a spill can cause to humans, the workplace, and the environment. Depending on the size of the spill, and the damage caused, this can cause great financial effects for a business.
RD Industries has produced several innovative designs, geared towards creating reliable and safe chemical containment and dispensing products. They have designed SaFTFlo® containment components in their line, which are manufactured to be 100% recyclable and offer the reassurance of closed-loop technology. One of the items in this product line is the SaFTFlo® bottle insert or the lock. Continue reading to learn more about the dangers of chemical spills and the reassurance you gain by utilizing SaFTFlo® Bottle Inserts.
How to Handle and Prevent a Small Chemical Spill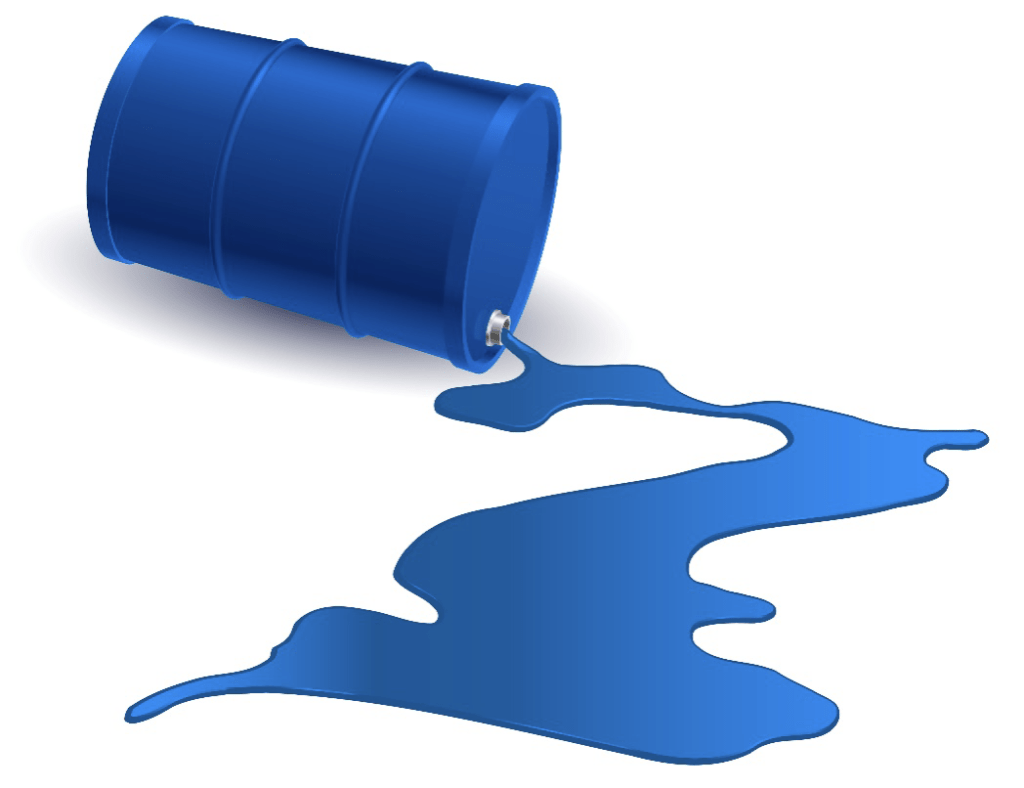 Chemical spills can cause safety hazards to your employees and contamination concerns to your facility and the environment. Chemical spill prevention should be a key component of your health and safety procedures in your facility. Employees should be trained on chemical spill prevention and work to prevent chemical spills daily. Some tips to prevent chemical spills are:
1. Store chemicals in a designated area, on secure shelving.
2. Perform routine inspections of chemical containers to ensure they do not have the potential to leak and that they are not deteriorating.
3. Only store chemicals at eye level. Prevent an employee from having to bend over or reach high to get a container.
4. Have strict guidelines for transportation of chemical containers.
5. Utilize chemical containers with secure and safe dispensing and containment such as the SaFTFlo® products from RD Industries.
Inevitably, chemical spills may happen. Your employees should have sufficient training to determine whether a chemical spill can be safely cleaned up. There should be a series of questions your employees should ask prior to determining if a spill should be handled in-house:
· What are the potential hazards of the chemicals that were spilled?
· What is the size of the spill?
· Is there a presence of incompatible materials?
· Do your personnel have the proper training and supplies to clean up the spill?
It is important to remember to never enter the contaminated area if you are unable to assess the conditions of the environment completely to ensure your safety.
Small chemical spills that contain low toxicity should not present danger of over-exposure or inhalation hazard, so long as the cleanup is handled properly. A small spill should not present an environmental or fire hazard and should not be in a public area.
General steps to handle a small spill:
· Evacuate all non-essential personnel from the contaminated area.
· Call 911 if medical assistance is needed.
· Confine the spill small area. Do not let the spill spread.
· Wear appropriate PPE. This could include body protection, splash goggles, and appropriate chemically resistant gloves.
· DO NOT ADD WATER TO THE SPILL.
· Use a cleanup kit to neutralize and absorb inorganic acids and bases. For other chemicals use the appropriate kit or absorb the spill with sorbent pads, vermiculite, or dry sand.
· Collect the residue and place it in an appropriate hazardous waste container and label it properly for disposal/pickup.
How Do RD Industries Bottle Inserts Work?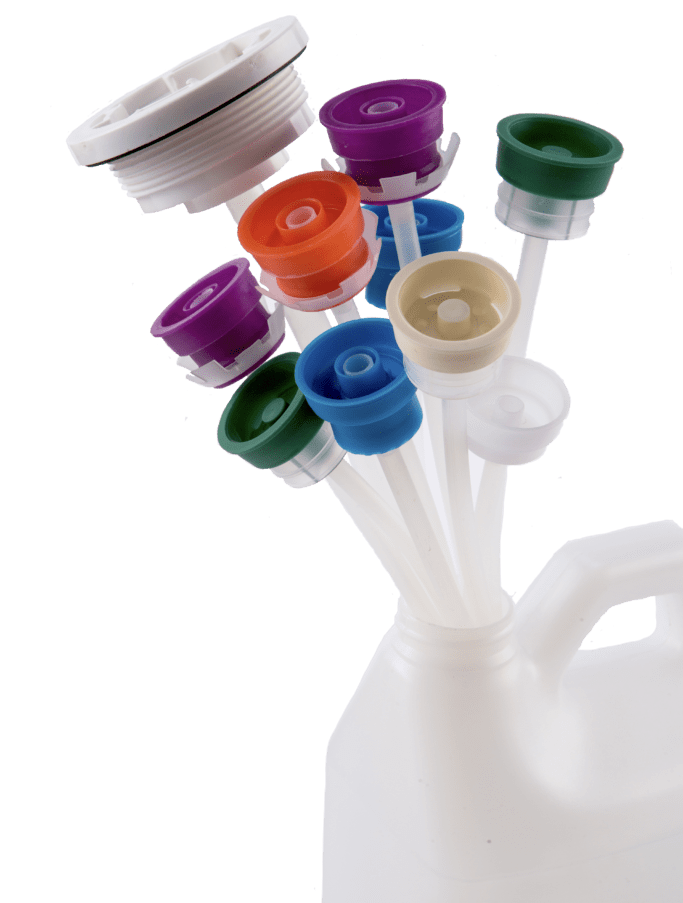 If you store hazardous materials and/or hazardous wastes in your facility, you are likely to need safety components for your containment and dispensing systems to meet various regulations. One of these containment systems is a bottle insert for a chemical storage container. A bottle insert is a fitted plug with an automatic, self-venting valve that is positioned in the neck of the container so that it serves to "lock" the chemical inside of the container. This is beneficial because it will prevent leaks and spills during the transport, storing, and handling of chemical solutions.
RD Industries has expertly designed The SaFTFlo® bottle insert, which acts as the single point of contact to release the chemical while dispensing, also known as the lock. A dip tube is attached to the insert that runs the length of the bottle which is used to draw chemicals from the container through the insert. The SaFTFlo® insert has built-in venting to activate chemical flow and allow chemicals to 'off gas' during transportation and storage which will prevent the containers from paneling or bloating. To set up a chemical flow, the end-user replaces the ship cap with a SaFTFlo® Cap Adapter which opens the insert valve, releasing the chemical. This offers a fully closed-loop system which ensures that end-users are never exposed directly to chemical concentrates.
Are you looking for a plastic chemical containment manufacturer who can provide you with excellent products to save you money and enhance personnel safety?
Contact the experts at RD Industries to learn more about our innovative SaFTFlo® products today.
What is Closed-Loop Technology?
Closed-loop technology is vitally important to ensuring proper chemical containment and the prevention of unnecessary accidents. A closed-loop system means that the container and its components contain the chemical concentrate without the need to encounter direct human handling. Obtaining the proper fitting will dispense/dilute the chemical as desired, minimizing the risk for contamination.
The SaFTFlo® insert is a primary component of closed-loop technology. A fitted plug with an automatic, self-venting valve is placed in the neck of a container to 'lock' the chemical inside, preventing leaks and spills during transport, storage, and handling. There are many benefits to using closed-loop technology. This prevents the end-users from exposure to chemical burns and potential inhalation of toxic fumes. Closed-loop technology enables accurate dilution which will optimize the product performance. Because it will produce accurate dilutions, this will result in overall cost savings for your business.
RD Industries wants to be your partner in advanced chemical and containment systems. Contact RD Industries at 1-402-455-8553 to learn more about how we can provide you with the best chemical containment systems.
At RD Industries, we make Connections for a Safer Planet. Since 1968, we have been at the forefront of innovation in the fluid containment and dispensing industry. Our CEO and Founder, Rod Laible, has more than 60 patents to his name for product design and process. Rod's motto spans multiple industries, with varying degrees of application: to keep the world safe. This motto is apparent in the products he has designed and launched through RD Industries.
At RD Industries, we have been the proven leader in the design, manufacture, and distribution of containment and dispensing systems for decades. We are proud to serve customers throughout North America, Central America, South America, Europe, and the Asia Pacific. Our key market is chemical packaging which is utilized for chemical dispensing of cleaning solutions. We are based in Omaha, Nebraska. Our world-class team of product designers, engineers, and professionals expertly brings our products to realization and we remain ahead of the game as innovators. We look forward to working with your team soon.