Improper chemical handling can expose your employees to a wide variety of dangerous health hazards. Dispensing chemical substances is one chemical handling process that can expose your personnel and facility to a variety of health and physical hazards. The Occupational Safety and Health Administration (OSHA) estimates that about 32 million workers in more than 3.5 million workplaces are regularly exposed to hazardous chemicals. Every facility with chemical handline is likely equipped with personal protective equipment (PPE) for employees to use for added safety. But there are other methods to reduce the risk of health hazards due to chemical handling. PPE usage relies on human supervision and behavior. Implementing a safe dispensing system technology into your chemical dispensing process ensures the safety of personnel, along with the PPE already in use. RD Industries can help provide you with this reassurance with their SaFTFlo® technology. RD Industries has produced several innovative designs, geared towards creating reliable and safe chemical containment and dispensing products. The SaFTFlo® containment components in their line are manufactured to be 100% recyclable and offer the reassurance of closed-loop technology. One of the items in this product line is the SaFTFlo® Cap Adapters or the key. Continue reading to learn more about the dangers of chemical spills and the reassurance you gain by utilizing SaFTFlo® Cap Adaptors.
Tips for Chemical Dispensing Safety
The CDC defines hazardous materials as any chemical substance that can cause a health or physical hazard. The foundation for chemical dispensing safety is to ensure that your personnel are educated, aware, and properly trained for safety protocols; this can help to prevent chemical spills and ensure a safe workplace environment. Hazardous substances fall into one of these classifications: oxidizing, toxic, flammable, corrosive, self-reactive, or even explosive. Employee exposure can occur in many ways including accidental ingestion, inhalation, or even being absorbed through skin surfaces.
Here are some tips for ensuring personnel are safe when handling hazardous chemicals:
1. Use clear labeling on containers. Use both words and pictures on all hazardous substances and the equipment necessary for transportation, storage, and dispensing.
2. Ensure manufacturer's Safety Data Sheets (SDS) are always readily available to employees.
3. Make sure chemicals are being stored in appropriate containers, as well as
· Storing containers at eye level or below, to ensure they are not lifted above the head
· Do not overcrowd storage shelves to where containers could fall or be un-level
· Make sure chemical storage areas are closed off
4. Establish safe and precise transfer of liquids from storage containers to usage bottles as this is where accidents are the most likely to occur.
· Make sure containers are securely placed on the ground
· Bypass manual pouring, instead use a pump or transfer system that can seal securely, pump precisely and hold up to the chemicals being handled. Better yet, utilize SaFTFlo®'s closed-loop technology.
· Make sure the receiving bottle is large enough to handle the transferred volume and that the transfer pump can stop the flow if required to eliminate any potential accidental overflow.
5. Ensure spill kits are available in appropriate areas to make sure if any spills or accidents occur, they can be handled efficiently to reduce the risk of ingestion, skin contact, or inhalation.
How Do RD Industries Cap Adaptors Work?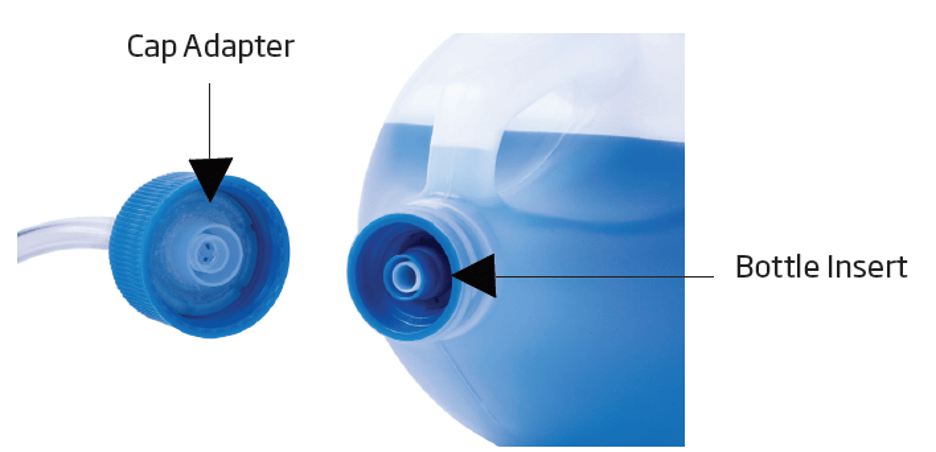 Changing bottles of chemicals over before they are completely empty can create potential safety hazards to the personnel within your facility. Containment and dispensing systems utilizing antiquated technology can potentially be less effective and cause the chemical to leak outside of the bottle, creating an unnecessary risk. The SaFTFlo® Cap Adapter is an integral component of the closed-loop system, as it works as the key to "unlock" the chemical from the container when dispensing.
The SAFTFlo Cap Adaptor is simple to use. To dispense the chemical, the operator will remove the ship cap and attach the cap adapter onto the neck of the container that is fitted with a compatible bottle insert. When the cap adapter is connected, an umbrella valve will then open the spring-loaded valve in the insert to "unlock" the chemical from the container. In this process, the chemical will travel directly into the dispenser preventing it from coming into contact with the personnel handling it. When the cap adapter is removed, the valve will automatically close to lock the chemical inside the container which will prevent spills or leaks. The SaFTFlo® Cap Adapter can provide many benefits to your facility. The cap adapter will allow the chemical to flow only within the closed-loop, thus allowing for safe dispensing of potentially harmful chemicals. The cap adapters work with both portable and static dispensers and are compatible with a vast array of chemicals.
Are you looking for a plastic chemical containment manufacturer who can provide you with excellent products to save you money and enhance personnel safety?
Contact the experts at RD Industries to learn more about our innovative SaFTFlo® products today.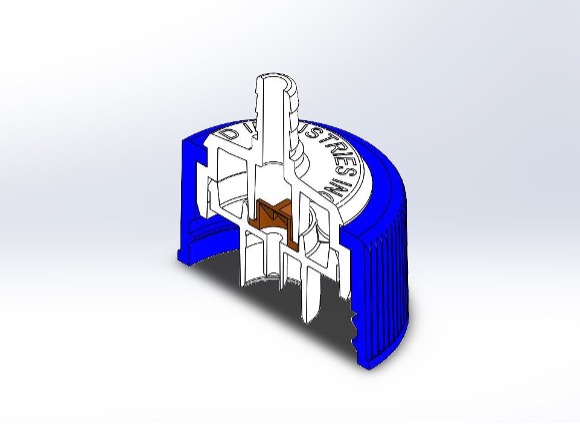 What is Closed-Loop Technology?
Closed-loop technology is vitally important to ensuring proper chemical containment and the prevention of unnecessary accidents. A closed-loop system means that the container and its components contain the chemical concentrate without the need to encounter direct human handling. Obtaining the proper fitting will dispense/dilute the chemical as desired, minimizing the risk for contamination.
The SaFTFlo® insert is a primary component of closed-loop technology. A fitted plug with an automatic, self-venting valve is placed in the neck of a container to 'lock' the chemical inside, preventing leaks and spills during transport, storage, and handling. There are many benefits to using closed-loop technology. This prevents the end-users from exposure to chemical burns and potential inhalation of toxic fumes. Closed-loop technology enables accurate dilution which will optimize the product performance. Because it will produce accurate dilutions, this will result in overall cost savings for your business.
RD Industries wants to be your partner in advanced chemical and containment systems. Contact RD Industries at 1-402-455-8553 to learn more about how we can provide you with the best chemical containment systems.
At RD Industries, we make Connections for a Safer Planet. Since 1968, we have been at the forefront of innovation in the fluid containment and dispensing industry. Our CEO and Founder, Rod Laible, has more than 60 patents to his name for product design and process. Rod's motto spans multiple industries, with varying degrees of application: to keep the world safe. This motto is apparent in the products he has designed and launched through RD Industries.
At RD Industries, we have been the proven leader in the design, manufacture, and distribution of containment and dispensing systems for decades. We are proud to serve customers throughout North America, Central America, South America, Europe, and the Asia Pacific. Our key market is chemical packaging which is utilized for chemical dispensing of cleaning solutions. We are based in Omaha, Nebraska. Our world-class team of product designers, engineers, and professionals expertly brings our products to realization and we remain ahead of the game as innovators. We look forward to working with your team soon.